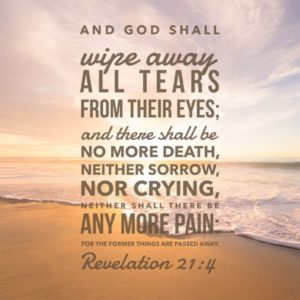 With an upcoming birthday, I am constantly reminded of the natural aging process. There are health issues, and popping, and cracking, and aches that weren't there twenty years ago.
And as I progress with age, so do the people around me; those I love who are suffering similar aches and pains…some even leading to death. Over the past several years, I have lost many friends and loved ones, leaving a cloud of sorrow.
But, we have a wonderful and comforting truth that one day, we will no longer experience sorrow, aches, and pains. Even though, right now, it may be beyond our complete comprehension to not have these, God has made us a great promise. Revelation 21:4 tells us, "He will wipe away every tear from our eyes; and there will no longer be any death; there will no longer be any mourning, or crying, or pain; the first things have passed away."
Everything will be different! How do we know He will do this? Revelation 21:5 tells us that, "He will make all things new. And He said unto me, Write: for these words are true and faithful."
How comforting to know we have a God who cares enough to make us new in every way. Glory to His holy name!
John Swonger – CBC Executive Member