It happened years ago. We'll call him "Bob." Bob was the kind of person who could sap your energy and chew up your day. He was very needy. He had been a pastor, and had a family, but all of that was history. Now Bob lived in a subsidized government apartment. There was one narrow path through the clutter and trash. A divorce had cost him his ministry and his family. He had almost no contact with his children. An industrial accident had mangled his hands making it nearly impossible for him to work or even care for himself. Bob's story was one of loss after loss.
I feebly tried to help Bob. He was hard to work with, hard to be with, hard to help. He was desperately lonely, yet turned most people off with his abrasive personality. He loved children yet his mangled hands, frightened children away. Nothing I did seemed to really help Bob. But I could be a friend, and that I tried to do … imperfectly.
Most folks only saw the side of Bob that was so needy, often not appreciative. But there was another side of Bob. In our times together I would sometimes get a brief glimpse of that Bob.
In cleaning up after an all-church Christmas program, I found something scratched on the tablecloth in Bob's hard to read handwriting.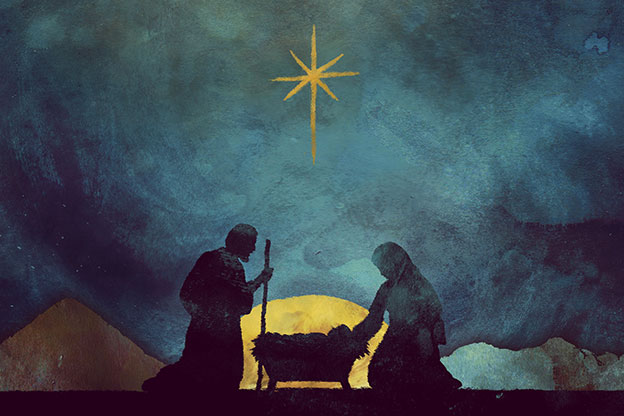 "By flickering of poor trimmed lamp,
Light of creation entered Bethlehem's stable door!
In light of flickering flame,
He who is the Great I AM of burning bush;
Burst upon humanity,
As Light of the World in whom no evil was!
So it was long, long ago, That terrible Brightness,
Upon whom none could look and live;
He, struggled for life as lowly Babe;
Struggled out of the womb,
Of sweet Mary, by flickering of poor trimmed lamp.
He, who created out of nothingness, something;
He, who came to us to be our Light and our God!
Emmanuel … Amen!"
Bob's words haunt me still! As profound as many a highly praised writer, yet from a mangled hand, of a mangled life, living a mangled existence! But even in the darkness – Light!
This Christmas finds our nation and world mangled like Bob's hands. Covid continues to ravage. Tornado devastation in Kentucky. The Brethren in Nigeria face the continued threat of Islamic extremist persecution. Darkness! In the midst of the twinkling lights and joy of the season many feel lost and alone, and the joy of others only seems to add to their pain.
But … Christmas is about the Light coming to the darkness! For you, for me, for all who will come – the least, the lost, the lonely, the unloved … there is Light in Jesus! Pray that the Lord will grant us the privilege to minister to the "Bobs" in our families, work places, schools, communities and church families. May we be able to "see" beyond the surface need, and even be open enough to be ministered to by "Bob."
"The people walking in darkness have seen a great Light; on those living in the land of the shadow of death a Light has dawned. … For to us a Child is born, to us a Son is given, and the government will be on His shoulders. And He will be called Wonderful Counselor, Mighty God, Everlasting Father, Prince of Peace." Isaiah 9:2, 6 NIV
Larry M. Dentler – CBC Board members