Thursday night, the 17th of June, Grover Duling, Gary Clem and Craig Howard traveled to the Center Hill Church of the Brethren near Pittsburg, at their request, to explain the details and formation of the Covenant Brethren Church. There were over 50 people present listening with interest as the presentation was made. Every effort was made to answer their questions and they expressed great appreciation for the information. While the church is still in the process of deciding where their future is going to take them, they were glad to hear the stand CBC has taken.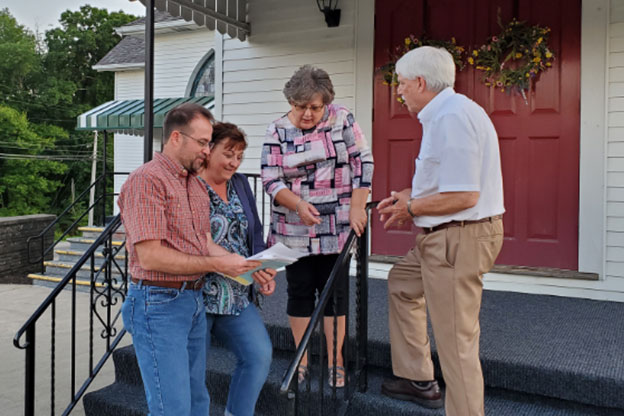 While most of the group present was over the age of 50 there were also younger families present and they expressed relief in knowing that there was someone out there standing up for the values that they wanted to teach their young children.
This visit was a second visit that followed a first meeting with their church board. The church board then voted to ask CBC to return and explain what they had heard to the whole church.
Also this same week, CBC was invited to visit two churches in West Marva District to share the same program. The first was a visit to the Beaver Run COB and the second was to the Brake COB board. Both churches received the information with a very supportive tone and look forward to moving ahead with the next step in the process.
At this point there are several churches asking for CBC to come and make a presentation simply to share information with them about what Covenant Brethren Church stands for and how it came into being. CBC has made no effort to seek these meetings but almost weekly, churches are calling to request a visit from this new denomination.