In just a few short days Brethren from all over our nation will meet together in Fairmont, WV for our second Annual Meeting and Worship Conference! It will be a special time of worship and work as we share this blessed experience together.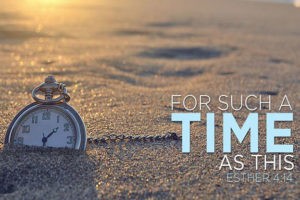 The theme for this year as previously announced is, "For Such a Time as This" and it is taken from Mordecai's wise words to Queen Esther. If you have not already done so, please read the entire book of Esther yet this week in preparation for our time together this weekend. This short book packs a powerful punch reminding us all of God's ability to rule and overrule whenever, wherever, and however He so chooses in spite of how hopeless things may seem from an earthly perspective.
Most Bible scholars know that Esther is one of only two books of the Bible in which God's name is not mentioned. Nevertheless, God is very much at work even in the foreign land of Persia to save His people and ultimately to provide a Savior for all people.
It's also true that until recently, Esther was the only Old Testament book for which no record had been found in the Dead Sea scrolls. That, however, is no longer true. Just recently, scholars using computer aided imagery confirmed that a previously unreadable scroll was indeed Esther.
The reason for its illegibility was due to some substance having been spilled on it. Analysis has confirmed that this liquid was wine. The wine, combined with the pastry fragment found in the same container, suggests that the scroll was being read in celebration of the Jewish feast of Purim created to commemorate God's sparing of the Jews by Queen Esther. God turned their fast into a feast!
God even arranged this remarkable discovery "for such a time as this." At a time when God's Word has been under attack, this finding combined with a mountain of archeological evidence already assembled helps to verify the validity of the Bible.
Just as the CBC theme is part of a larger story in the book of Esther, so too our lives, our congregations, and the Covenant Brethren Church herself are all part of God's larger story. And like Esther, as we choose to partner with God in His work, He is able to do mighty miracles in and through us to witness to others and extend His salvation to them.
In coming together in Fairmont to worship and praise God for what He has already done, we invite Him to continue to reveal His will and His plans for what He wants us to do for Him in the times and places in which we live. How can we best be God's people for such times as these? Be praying and listening for God's answer to this question as we gather in just a few days. See you in Fairmont, God willing!
George Bowers – Executive Board member