Greetings from your CBC Disaster Coordinators, Mark Teets and Brenda Harvey!
Recently this question was placed on the CBC website: Do you want to help with a disaster response? Well, we are here to assist you! The Covenant Brethren Church is excited about our growing partnership with Samaritan's Purse. We are beginning the process of looking for volunteers to assist with disaster relief for families whose homes have been devastated by floods, hurricanes, tornadoes and wildfires. We are also looking for volunteers for the rebuild program, which is a long-term rebuilding project. Volunteers who are proficient in all phases of construction are needed for this project as well as those without specialized skill.
If you have questions regarding how things work when you are on deployment, please contact Mark, as he has served on previous disaster deployments.
I will be your contact to assist with scheduling your team with Samaritan's Purse, coordinating with other teams from other churches, helping you get registered, and notifying you of upcoming trips.
When you volunteer, you may go alone and be paired up with a team when you arrive, or you can travel as a complete team, or with other small groups from other churches. A team is made up of ten or more individuals. Volunteers must be at least fourteen years of age. Youth, ages fourteen and fifteen must be accompanied by their parent/legal guardian and youth, ages sixteen and seventeen, must be accompanied by an adult chaperone unless the team is registered as a youth group. Volunteers are responsible for their own transportation to the site. Meals and sleeping quarters are provided by Samaritan's Purse for overnight volunteers. Tools are provided by Samaritan's Purse but if you have our own tool belts, please feel free to bring them.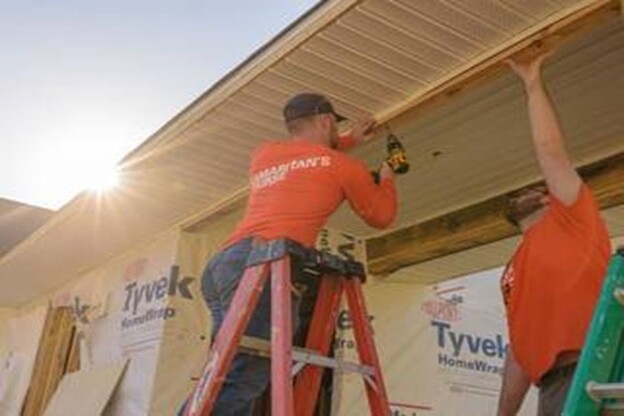 Currently the only project available is a rebuild project in Western Kentucky and it is booked through August. If a group is interested in this project, we can make a team application and be placed on their scheduling list. In the future, Mark and I will receive updated disaster and rebuild project information. As soon as it is available from Samaritan's Purse, we will see that it is made available to you as quickly as possible. The Shawnee, OK tornado project will be closing out this week.
Mark and I look forward to seeing you at the CBC Annual Meeting and Worship Conference at Fairmont State University on Friday, July 21st. Look us up at the exhibit hall where we will be blessed to have representatives from Samaritan's Purse available to assist with your questions.
For more information on volunteering contact:
Mark Teets: mteets@snowycreekdorset.com      304-698-7197
Brenda Harvey: brendalharvey1@gmail.com      301-616-1367
You can also check out Samaritan's Purse website: spvolunteer.org