A real value of the Christian faith is how it instructs us – challenges us – calls us to respond in the power of the Holy Spirit. If everything goes right, we are happy. It appears that God is blessing us. Yet when things don't go right – when they take more time, when people are negative, when traffic is backed up, when we fall ill – that is the time when we may wonder whether God is really there.
The Apostle Peter presents the hope of the Gospel. The Christians he is addressing are under great persecution. Those early Christians wondered whether this new found faith was worthwhile. They questioned how to respond in the face of great challenges.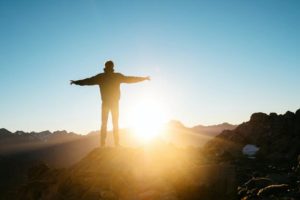 Peter tells them to rejoice! He wrote, "In this you greatly rejoice, even though now for a little while, if necessary, you have been distressed by various trials, so that the proof of your faith, being more precious than gold which is perishable, even though tested by fire, may be found to result in praise and glory and honor at the revelation of Jesus Christ; and though you have not seen Him, you love Him, and though you do not see Him now, but believe in Him, you greatly rejoice with joy inexpressible and full of glory, obtaining as the outcome of your faith the salvation of your souls" (1 Peter 1:6-9 NASB).
Peter counseled them to submit to Christ – at home (3:1), in their work (2:18), in the church (5:5), and in the country (2:13). They are to continue to engage life with an eye to pleasing Christ. He would bring great joy to His obedient people. Peter tied together the anticipation of a blessed future with how they should live. He paired doctrine with life.
Doctrine, taught and applied, is the heart of New Testament Christianity. Whatever we believe, that is doctrine. If we believe Jesus died for our sins and arose the third day, that is doctrine. If we understand that Jesus is coming again soon, that is doctrine. If we believe that Christians should love one another, and tell others about Jesus, and serve others, that is all doctrine. What we believe is doctrine, and what we put into practice is doctrine. The Bible even says that all Scripture is useful "for doctrine." Whatever the Bible teaches is doctrinal.
When things are not going well, we know to trust the one who gave His life for us, and is preparing a home for us in Heaven even as we read these words. The reality is that the Christian faith is useful. The Holy Spirit is using even negative events in our lives to bring about a closer relationship to Christ.
God tells us, "Therefore, prepare your minds for action, keep sober in spirit, fix your hope completely on the grace to be brought to you at the revelation of Jesus Christ" (1 Peter 1:13). Those who have this hope are never disappointed!
Craig Alan Myers – CBC Executive Board member