This afternoon, August 28, we were alerted that Samaritan's Purse is looking for volunteers to assist homeowners affected by recent wildfires in the state of Washington. Volunteers will assist homeowners affected by recent fires in Spokane County, Washington. You will be assisting with content retrieval, chainsaw work and debris cleanup.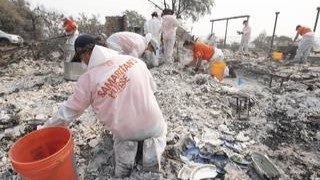 Volunteers are responsible for their own transportation to the site. Meals and sleeping quarters will be provided. Volunteers need to bring twin size bedding, pillow, towels, and personal hygiene items. Tools will be provided, but volunteers may bring their own belts and small hand tools. Volunteers should dress in long pants and sturdy boots.
If you are local to the area you are welcome to serve for the day. Please contact their site at 509-991-4304 at least 24 hours in advance.
If you are interested in volunteering, please contact Brenda Harvey at: brendalharvey1@gmail.com (301-616-1367) or contact Mark Teets at: mteets@snowycreekdorset.com (304-698-7197).
We will then begin the registration process.
You can get additional information on all of the projects and rebuilds at spvolunteer.org
Thank you for considering this opportunity and for praying for those who have suffered such losses.
CBC Disaster Relief Coordinators – Brenda Harvey & Mark Teets