Today, September 19, we were alerted that Samaritan's Purse is looking for volunteers to assist with projects in Maui, Hawaii.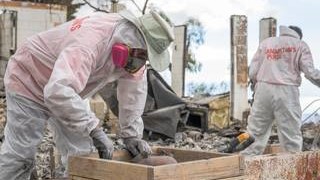 On Tuesday, August 8th, dry conditions on the Aloha State's second largest island prompted fires – a manageable burn turned catastrophic on Wednesday, August 9th, as winds from Category 4 Hurricane Dora swept it into an inferno. The historic village of Lahaina, home to more than 13,000 people was leveled.
Volunteers will assist homeowners affected by the fires and will help in Jesus' name with content retrieval. Volunteers will be responsible for their own airfare to Maui. Each volunteer session is 1-2 weeks long, with arrivals only on Sundays or Wednesdays. Housing will be in a tent with bunkbeds provided. Air conditioning is limited. Outdoor showers and portable bathrooms will be available. Far beyond the physical help you will extend to the homeowners, the spiritual and emotional support you offer to them is even more important.
Volunteers will need to schedule their flights into Kahului, HI. Please do not book your plane ticket until you have been scheduled by a Volunteer Coordinator.
Meals and sleeping quarters will be provided. Volunteers need to bring towels, and personal hygiene items, bed linens will be provided. Tools will be provided, and volunteers are welcome to bring their own tool belts and small hand tools. Volunteers should dress in lightweight pants and sturdy boots. Volunteers will be required to wear Personal Protective Equipment (PPE) that includes a Tyvek suit and a P100 Respirator.
If you are interested in volunteering for this or any other disaster relief project, contact Brenda Harvey at <brendalharvey1@gmail.com> or 301-616-1367 or Mark Teets at <mteets@snowycreekdorset.com> or 304-698-7197. Mark just recently returned from Maui where he worked on this project. Please feel free to contact him for additional information We will then begin the registration process.
You can get additional information on all projects that are available at <spvolunteer.org>
Thank you for considering this opportunity and for praying for those who have suffered such losses.
Mark Teets and Brenda Harvey
CBC Disaster Response Coordinators