I have always been a little claustrophobic. Every time I get on a plane it feels very tight to me. I am crammed in a little metal tube sock with all these people. I always breathe a sigh of relief at the end of the flight when I walk off the plane.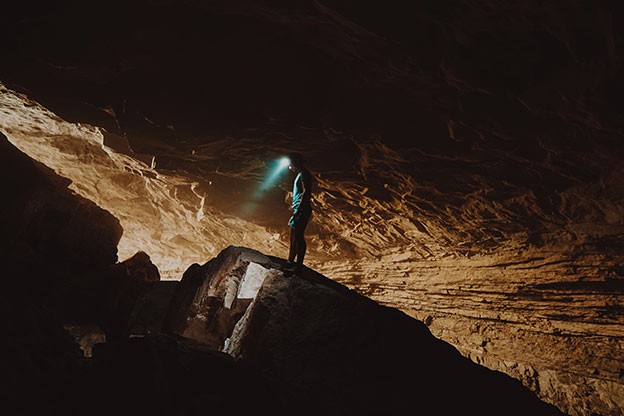 When I was a teenager, I choose to confront my fear and go spelunking (cave exploring) with a friend from high school. The cave had a very small opening, lots of mud, and a channel that we did an army crawl thru. One fork got so small I didn't fit thru, and my friend could hear my heart beating.
Fear can be crippling to us. It can keep us from living out our faith and serving our Lord. Satan uses fear to control us and distract us. Society pushes fear all the time. Fear of Covid. Fear of losing our job. Fear of dying. Fear of offending someone, and the list goes on.
One fear is beneficial for us, the fear of the Lord. But what does the fear of the Lord mean?
Fear of the Lord is recognizing God for who He is: Creator, All-Mighty, Holy, Righteous, Omnipotent, and All-Powerful. I don't think we can fully comprehend how holy, powerful, and mighty God is, but we have many examples in the Bible to help us get a sense of how awesome God is.
The church in America seldom talks about the fear of the Lord. We hear a lot of talk that God is love, but we can only begin to comprehend that love in light of God's holiness and righteousness. One day God will put an end to this age and come in judgement.
"It is a dreadful thing to fall into the hands of the Living God." Hebrews 10: 31
But through God's love, we are saved from this judgement.
"For God so loved the world, that He gave His only begotten Son, that whoever believes in Him shall not perish, but have eternal life." John 3: 16
By understanding God's holy judgement and the saving blood of Jesus we receive a benefit from fearing the Lord.
"No, in all these things we are more than conquerors through Him who loved us. For I am convinced that neither death nor life, neither angels nor demons, neither the present nor the future, nor any powers, nor anything else in all creation, will be able to separate us from the love of God that is Christ Jesus our Lord." Romans 8: 37-39
Living a life that fears the Lord allows us to conquer all other fear. If we fear God, we do not need to fear anything else. Living a fearless life is one way we can let the light of Jesus shine. The lost will be drawn to a fearless church that is part of the family of God.
I serve the Mighty God who loves me. Neither Covid, nor losing my job, nor an airplane, nor even a tiny muddy cave can separate me from His love.
Jim Nolt – CBC Executive Board member