On October 1st twenty-five persons met at the Oak Dale Covenant Brethren Church to discuss the formation of a new CBC region. This was the groups second meeting. At this meeting they voted to call themselves the Central Allegheny Region and a new region was born.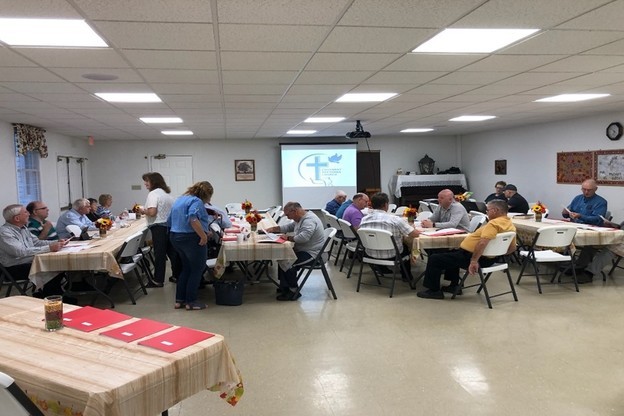 After prayer, led by Pastor Randy Cosner, Grover Duling led the group through several discussions and reviewed contact information. They talked about mission projects for the region and they decided that each church would help this Christmas on a regional project with Operation Christmas Child. They are choosing to focus on the 10-14 age group and were encouraged to pack at least 5 boxes per church. Boxes will be turned in and sent off as a Covenant Brethren Church mission project.
Grover updated the group on how CBC is growing both within the Central Allegheny Region and Nationally. At present 9 states have churches in Covenant with more and more congregations expressing a desire to join weekly. Grover invited the group to share their progress or journey as they transitioned to CBC and some help was offered to churches going through this process. Some of the churches inquired about signage and Grover shared that JD Signs in Fairmont is the place to contact for new signs. Tom Reese is the contact person and his number is 304-363-3211.
They then went into a discussion about the possible leadership structure for the region including delegates for the regional meeting and what to look for in choosing leaders. It was felt this needed some time for thought and prayer as well as time for churches who are still in the process of leaving COB and coming to CBC the opportunity to join in the conversation. It was agreed that another regional planning meeting would be held in the spring to nail down leadership and direction. By then many of the churches in transition now would be finished and could participate.
It is exciting for the whole CBC body to see this growth and development. We need to continue to pray for God's direction and wisdom as we move forward with this mission.