A meeting took place made up of former West Marva Churches met at the Oak Dale Church on May 21, 2021 with the intention of beginning the process of organizing a new Region within the CBC that may be known as the Central Allegheny Region. Pastor Randy Shoemaker led us in devotions and prayer challenging us to remember our need to be accountable.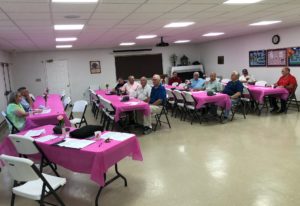 Nine churches were represented with others in the area that are showing interest in joining this movement. Grover brought the group up to date on the national scene with CBC. He shared that a number of churches have been inviting CBC representatives to come and share what CBC is all about at to answer their question. There was also some information shared about international interest in CBC and that added a great deal of excitement.
Sunnyside Covenant Brethren Church shared that their transition is complete while Pine Grove is still working on their transition. Wiley Ford informed us that their transition is almost complete. They still need to make some legal changes that are in process. Their decision to make this move had only come after much prayer. Tearcoat has reported that their transition is nearly complete and the church is seeing growth as a result. Old Furnace church reported that they had been working on this process for quite some time, informing their church all along the way about what was happening with COB and what CBC was being formed for and where it stood. It made their transition very smooth and is nearly complete in every area. It was not a transition they took lightly but one they took very seriously. Pleasant Hill church shared their journey to CBC that eventually led to a 100% vote to make the transition. They are still working on some of the legal documentation to complete the transition.
Information was made available to the churches about how Camp Galilee is making the camp available to all CBC churches and wants to work with both West Marva and CBC to provide a great Christian Camping experience.
Grover reported that there have been some changes in the 501-3-C making it difficult to put all churches under a denominational or even regional umbrella. Churches can apply for their own tax exempt status but may not be able to have that coverage from the denomination.
We next discussed the structure of the region. It will follow the structure of the national church very closely based around a 9 member executive committee, with some exceptions to allow leadership to participate to get the organization going. Within 5 years any member of the executive committee will have to be a member of a member church. Even in the role of the regional executive, that person would need to hold a individual membership if not be a member of a member church. The subcommittees were discussed and it is clear that there are many opportunities for service within the region.
We finished up with sharing thoughts and encouragement for the future. The meeting was very productive and all present look forward to all of the opportunities that our region in this new denomination has to offer.