Grover Duling, Craig Howard, Randy Cosner, Craig Allen Myers and others continue to answer the call to go to churches and present the history and status of the Covenant Brethren Church Denomination. On almost a weekly basis, churches call wanting information on the development of CBC and what is necessary to become a part. There have even been calls from a well-known national Christian Magazine seeking information on the new denomination that is growing almost weekly.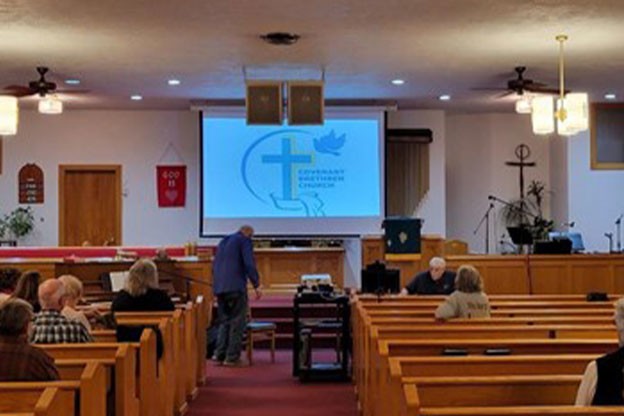 Several churches in Western PA, West Virginia, Maryland, Virginia, Indiana, and even in New England have called seeking more information. This is not something the leaders of CBC are seeking out. They are being sought out by churches wanting to find an organization they can be part of that recognizes the authority of the Word of God and our accountability to that word.
In every situation, churches are encouraged not to become mean spirited or divisive but to act in love with those who don't agree. If there are disagreements within a local church about whether to pursue CBC or not, they are advised to lovingly work to an agreement and not allow division to form in the congregation.
There are three churches present at the meeting shown in this picture. Many questions were asked and answered. There was a genuine spirit of appreciation expressed about the way that the presentation carried a spirit of love and concern for the local church. No effort was made to pressure any church to join CBC. The CBC representatives simply shared information so churches could make a more informed decision. There are still many other churches on the schedule to see, but if your church is seeking information on CBC or you know of a church that is, direct them to contactcbc@covenantbrethren.org or you can call the Covenant Brethren Church office at 304-534-8010 to schedule a team to come and share information and answer questions.
Craig Howard – Structural and Regional Development Committee